When counting in all small islands, Norway has the second longest coastline in the world, after Canada. To row among these islands is nothing else than adventures. It is also safe with calm seas and hideaways. Some places along the coast are more exposed, but it is even more scenic, often with spectacular nature with mountains meeting the ocean. One of the best places to explore is the coast of Nordland in the northern part of Norway, and that's where I went with my Liteboat in May 2022.
Arriving in Bodø, the goal for the next couple of days was to row 100 km north, to explore fjords, lakes, archipelago and open coast, a compact trip, definitely physical enough, but also manageable, in terms of gear and time and organization. Setting out east brought me into the Saltfjorden, south of Bodø, aiming for some lakes in the inland. I had never been there before, but the maps showed a possible route across the Bodø peninsula, making it possible to reach the Mistfjorden on the north side. Blessed with a warm spring sun, the lakes lay flat and calm among the hills. I pulled the Liteboat over land four times, thanks to a set of wheels that I brought.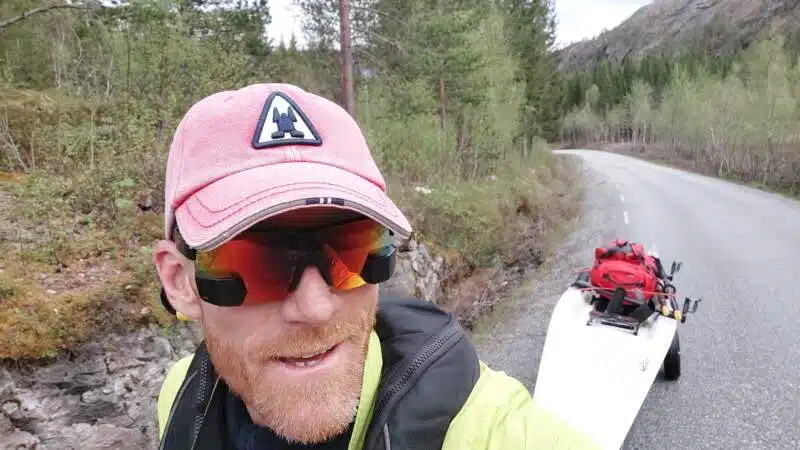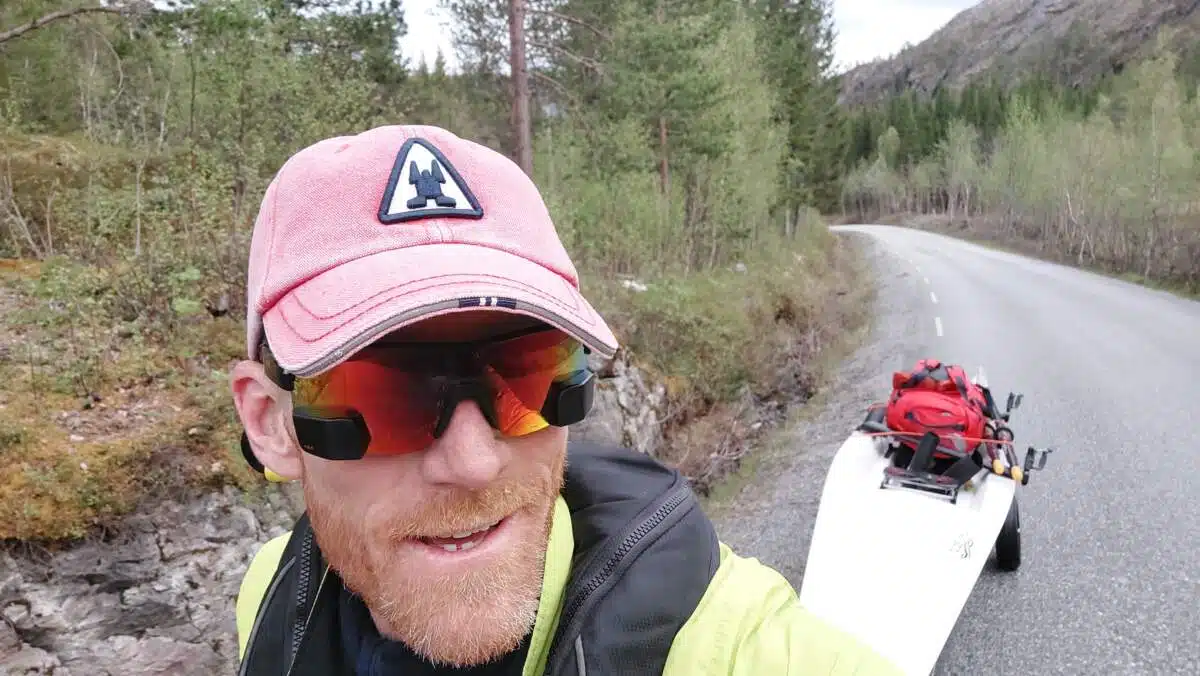 After six hours, and after a great lunch in the open, I went out into the Mistfjorden. The small hills were behind, from now on, there were steep mountains of a thousand meters dropping straight down next to me. This gave a sudden shock of ice cold winds, dropping down with incredible force and I had to row as hard as I could to get around the next turn of the fjord. Coming around, the Norwegian Sea lay ahead, luckily as flat as a floor. The coastline turned north, and mountain after mountain competed to get my attention. Wherever I turned, it was nature and nothing else.
When rowing for hours and days, you need to eat and drink pretty much all the time, otherwise you will soon feel empty, and the trip will be like torture. I had a wonderful stop for dinner at the old village of Kjerringøy, now a museum with buildings, boats and live craftmanship. But as I had planned to go another 10 kilometers before some sleep, I went on, now into the ocean for an hour, until I reached the island group of Karlsøyvær. Most of it is restricted as an area for bird life, but a couple of islands are open for stopovers. I had a good night sleep for six hours, although the midnight sun walked along the northern horizon, keeping the night as bright as the day.
Early next morning I was more lucky than ever. The coast of Nordland can really be rough, but now the sea was even calmer than yesterday. Eagles circled above, a seal watched me as I passed a rock, and seagulls followed my track. For many hours I enjoyed the archipelago of Steigen, a breathtaking labyrinth of all that northern Norway can possibly offer of pure nature, and today; bathing in sunlight. Navigation to my final destination of Nordskot in Steigen was easy, just row north, and let the Liteboat find its own way between the islands, into sounds, between rocks and over shallow waters.
What was behind the next turn? I didn't know. That's what a Liteboat is for. It brings you out in the elements, it takes you thru nature and brings you memories for life. If you haven't been there, find a map, look for water you believe you can handle, and go.
Tor, Liteboat dealer in Norway