What a fun event we had, rowing around Salt Spring Island in the first annual Race Around the Rock!
Salt Spring Island is just north of Victoria and a 30-minute ferry ride from Vancouver Island. One of the beautiful BC southern Gulf Islands, Salt Spring Island (SSI) is a bustling community of 12,000 people that swells to 15,000+ on sunny summer weekend days, with campers, Saturday market-goers, and now coastal rowers.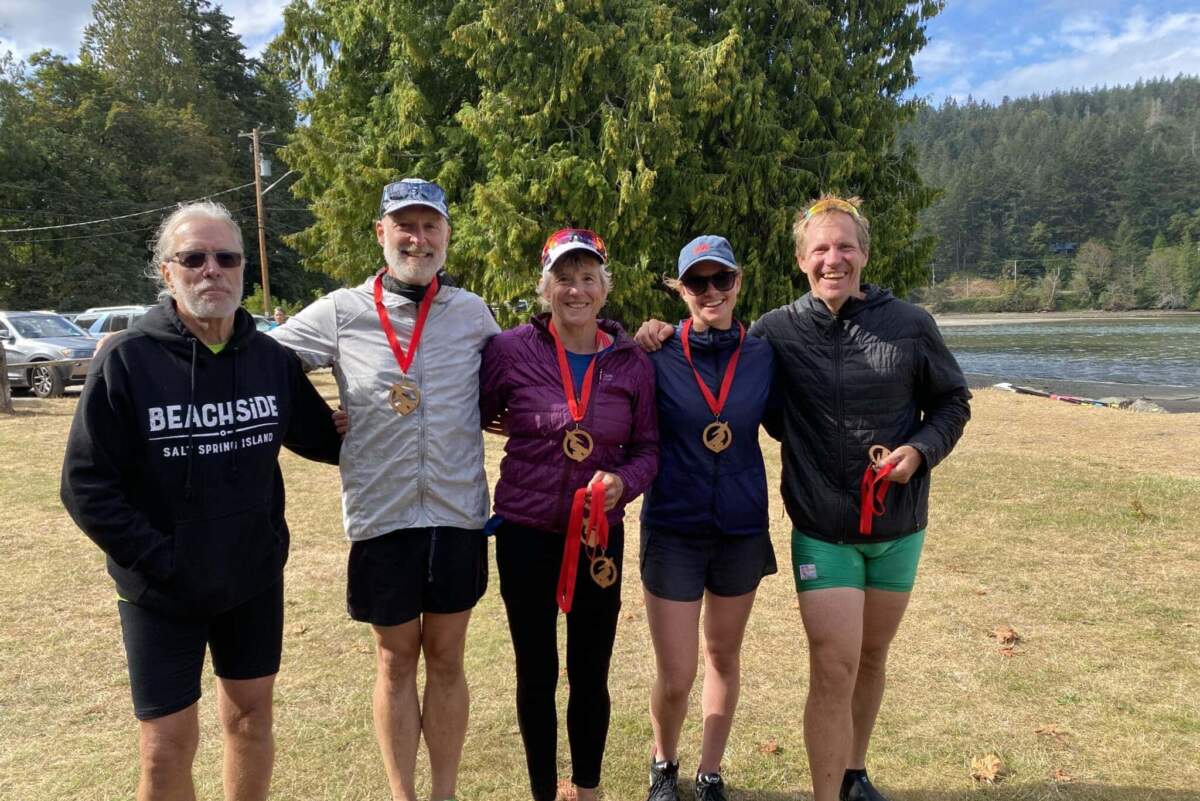 Three years in the making (thanks to COVID), Race Around the Rock (RAR) is the brainchild of Salt Spring Island Rowing Club members, Stacy Mitchell and Mike Lakin. For this first year the event was limited to doubles, quads and fours, rowed either by one crew for the entire 88 km or as a relay. The 4 teams (1 coxed quad and 3 doubles) for this year's event all rowed the event in relay fashion, with team sizes ranging from 6 to 10 members.
Liteboat Pacific Rowing supplied two of the doubles (LiteRace 2x) for the event, with boats required to meet World Rowing Coastal specifications.
The event also spawned somewhat of a road rally as teams juggled cars, kids and rowers to get crews to the assigned transfer points – definitely a challenging prospect on the island's winding and narrow roads; add ferry traffic and driving was often slower than the rowers!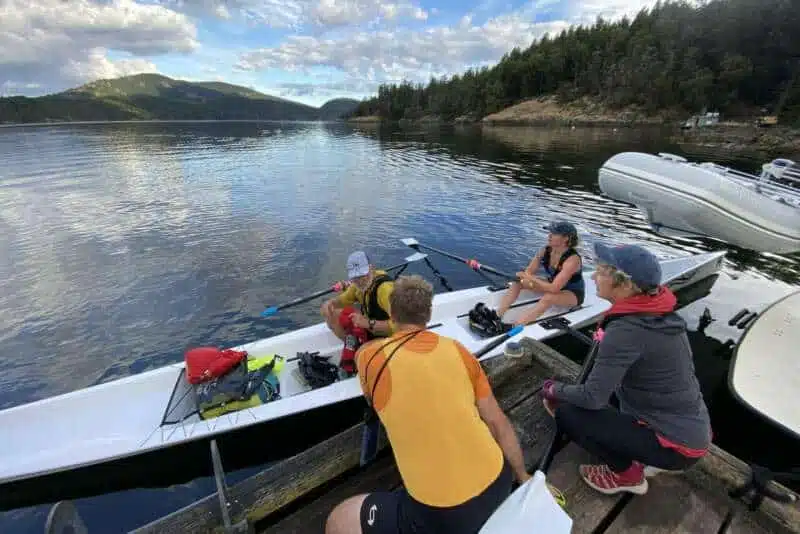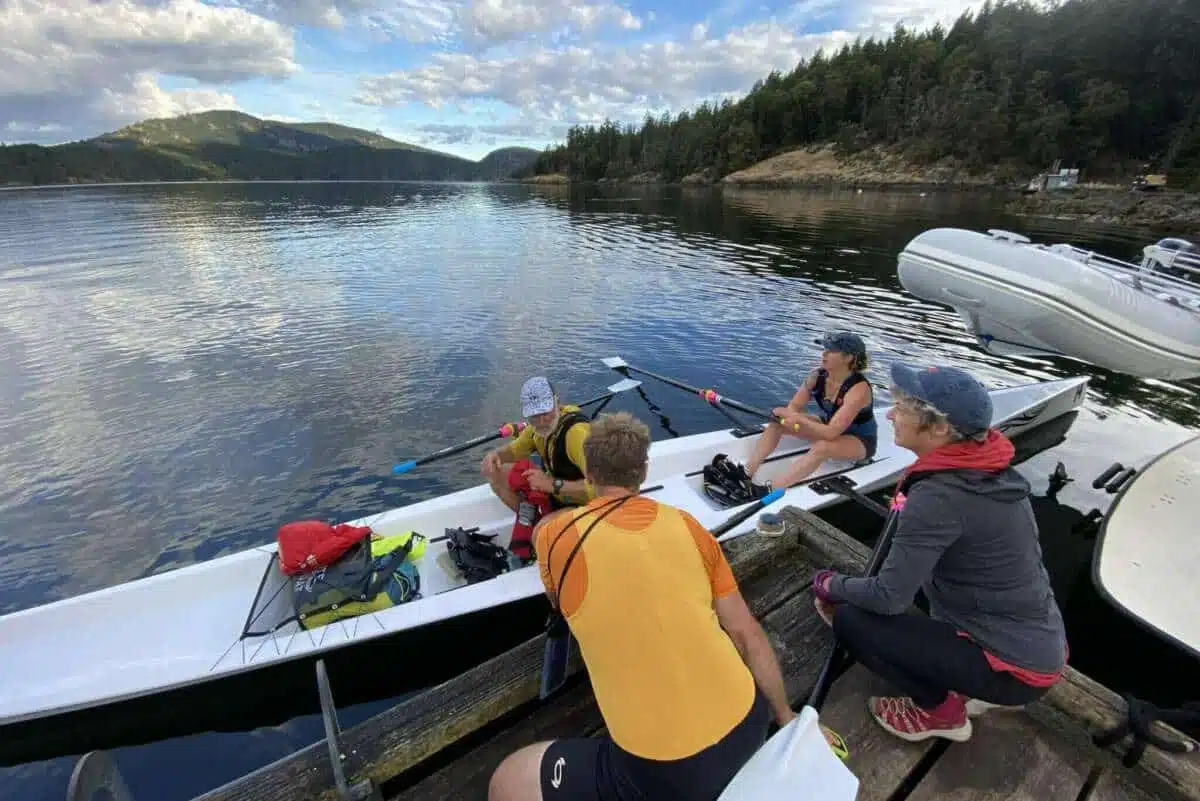 In all there were 9 legs to the event, though a team could choose to skip a transfer point, with the same crew rowing back-to-back legs. This strategy (rowing back-to-back legs) proved to be helpful as the first transfer point required crews to navigate the windy, hilly 4×4 road to Musgrave Landing and then switch out crews at the end of a narrow busy dock. For the first half, the coxed quad that included a number of former Olympic athletes, didn't get much of a lead, but as boats rounded the north end of SSI and had headwinds and adverse current to deal with the quad's lead had lengthened to over 90 minutes ahead of the first double, when they crossed the finish line.
Choppy sea state, headwinds, variable currents, and wake from pleasure boats combined to make for some challenging coastal conditions. There were smiles all around as crews pulled into Fulford Harbour for a short run up the beach to the finish.
This wasn't just a rowing race, but a fabulous opportunity to connect with others interested in coastal rowing, and give local umpires a chance to experience a race course on the more exposed ocean. Crews gathered at Drummond Park the day before the race to set up their boats and enjoyed a great pre-race dinner and race briefing. The race started promptly with a short beach run at 6:30AM Saturday Aug 27th and wrapped up by 5pm. All-in-all there were 35 rowers in the inaugural event and with all the buzz on social media after the event, who knows, there could be quadruple the number of entries for RAR 2023!
Our composite crew of Calgary Rowing Club, OARCA (Open Aviron Rowing Coastal Association) and Salish Sea Coastal Rowing Club are already contemplating training camps next year, including rowing around other Gulf Islands. Congratulations to Salt Spring Island Rowing Club for such a fine event, and to all who participated – rowers, umpires, support crew, family, friends and spectators.