The indoor rower is often the neglected child in sports halls. It's the one we walk by wondering what such a machine can be used for. And yet … Full of resources and benefits, it defends itself well next to treadmills, ellipticals and other cardio machines.
Directly inspired by rowing, the indoor rower is an ergometer, like its competitors treadmills, exercise bikes and other ellipticals. It allows you to reproduce the movements you do on an oar, without having to go out on the water, outdoors and while staying in place. The indoor rower is practiced at the gym or at home, if you can afford a machine.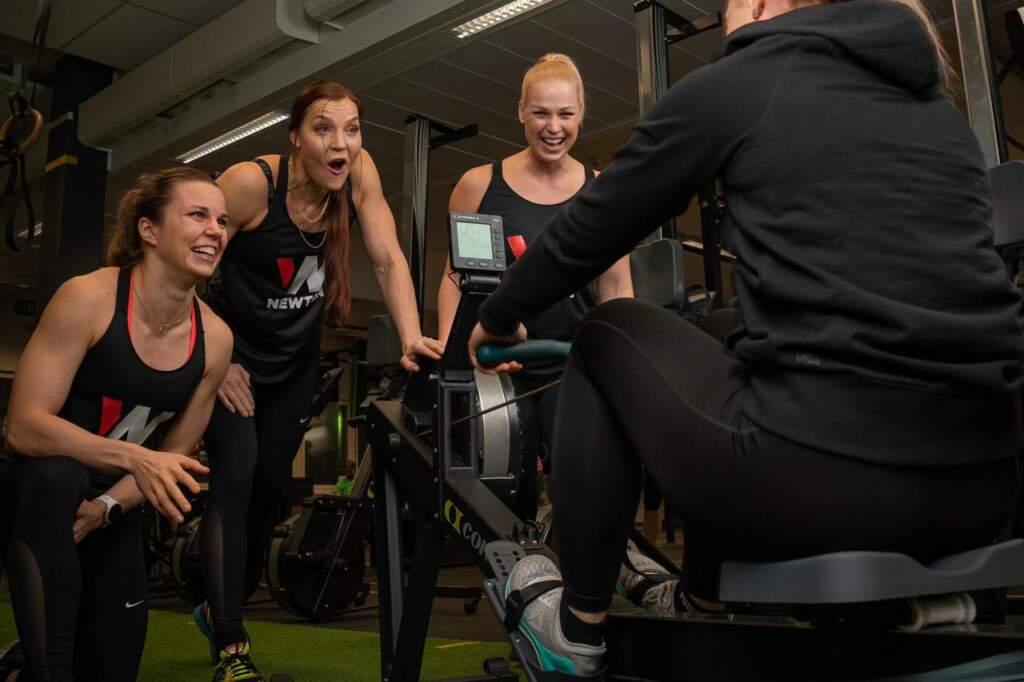 An accessible sport
No matter your level of sport, you can easily get on a rowing machine. This sport is accessible to all: beginners, experienced athletes, young and old, men, women… Anyone can row!
The indoor rower is suitable for everyone… So for all objectives. Thanks to the possibility of adjusting the strength and resistance of the machine, and depending on the type of training, we can aim for different objectives: weight loss, muscle strengthening, cardio work, preparation for competition … The indoor rower will find its use for everyone!
Work out cardio and build muscle
The advantage of the rowing machine is that it helps improve the cardiovascular system while strengthening all muscles. By using no less than 90% of the muscles of the body, it is a complete device for those who, for example, are short of time or space.
And building your body isn't just a matter of aesthetics. It is important to strengthen your muscles to improve your overall posture, strengthen the joints (and therefore reduce the risk of chronic pain), improve your daily physical capacities, increase your metabolism and improve your health in general.
The friend of fragile joints
The resistance work without load in the seated position of the rowing machine allows muscle strengthening and gentle cardio work, without impact on the joints. A godsend for the most fragile at the knees, hips, ankles or shoulders. If you are looking for a low impact all-round sport, the rowing machine is for you!
And the same goes for the back! By engaging the back muscles, the rowing machine can help prevent or even relieve back pain.
The indoor rower to sculpt your body
The rowing machine can find its place in a weight loss program. Combining both cardio and muscle building, it not only burns calories but also shapes the silhouette. In fact, to lose weight, cardio and muscle building go hand in hand. Cardio, alone, only allows you to lose fat without strengthening yourself. Muscle building, meanwhile, only helps to grow muscles without losing fat.
Of course, for optimal results, a healthy diet is essential.
AviFit: the indoor rower revisited
For the undecided fans of rowing AND fitness, there is a recent and super fun discipline called "AviFit".
A booming discipline, the French Rowing Federation is full of praise: "In group lessons paced and supervised by a trained coach, this activity is very comprehensive and suitable for all profiles. At the crossroads of the worlds of fitness and physical preparation, AviFit works on body, heart and mind at the same time!
Muscle strengthening, cardio and good humor come together in sessions specially designed to spend a maximum of energy while having fun! "
Against a background of dynamic music and in a thunderous atmosphere, you can do fitness exercises on a rowing machine for one session. If you were hoping to come away looking dapper after that … you've failed. But no regrets, you will have spent your time like never before!
A big thank you to CVIFS for making this article available!