The resin infusion, an innovative building technique
To build light rowing boats, LiteBoat uses an innovative building technique: vacuum infusion. It is a process where resin is injected in mould under a vacuum. There is no air in the composite sandwich, and, above all, the exact quantity of resin injected is controlled.
— Lighter. Stiffer. Stronger. —
As a result, LiteBoat boats benefit from a superior quality over traditionally hand lay-up built boats. As a proof of quality, all LiteBoat boats are guaranteed for two years.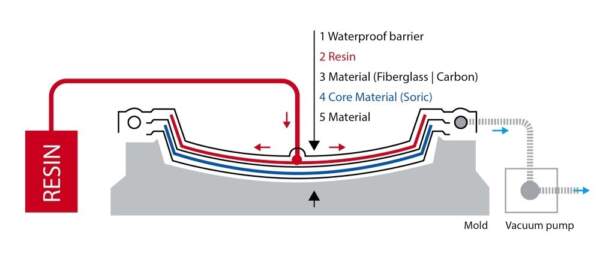 In addition, the implementation of this resin is in a closed circuit which guarantees the health of the operators. The Liteboat production site has been awarded by CARSAT at the national level with the presentation of the Trophée Risques Chimiques Pros. This award is a recognition of Liteboat's commitment to ensuring the best health and safety conditions for its team in terms of protection from hazardous chemicals.